We're Members!





The Happiness Project - Week #5 - sponsored by Leigh v. Laundry: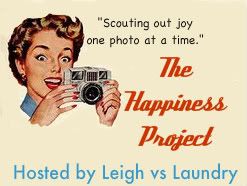 If you want to jump on the bandwagon simply post a photo of something that makes you wildly happy.
Then, steal
Leigh's button
from her blog (if you can't get it from mine) and include it in your post.
Be sure to add your link to Mr. Linky, also on Leigh's post. (I'm not savvy enough to figure out how to get that Linky to my blog.)
Have a
MAGICAL
day!